Laser Group
Laser Group is a proud family of quality-focused trade service professionals in the electrical and plumbing industry. Our multi-award winning Laser Electrical and Plumbing Groups have experienced phenomenal growth over the last 10 years and we are delighted to be the leading network of electrical and plumbing contractors in Australia and New Zealand.
Laser Group's market leadership position has been earned through innovation, planning, use of quality systems and attention to providing the highest levels of customer service.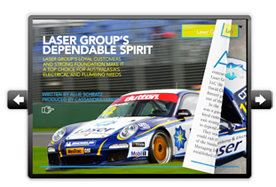 Laser Group's Dependable Spirit
From our modest beginnings in 1983, Laser Group has maintained its core structure and customer values to grow into one of the largest plumbing and electrical contractor networks across Australia and New Zealand.
Laser Group was co-founded in 1983 by David Clemmett and Peter Bassett, when the pair started the electrical contractor company 'Laser Electrical Ltd'. Clemmett and Bassett grew their company through the eighties into one of the largest of its kind in Auckland, New Zealand.
Laser Group's innovative systems, unique business model and loyal customers make it the top service provider for plumbing and electrical needs across Australia and New Zealand.
---
The Competitive Advantage of Joining Laser
Laser Group's innovative business model allows us to provide our Members with access to software systems and administrative support to help them achieve their goals.
Today, Laser Group has more than 200 Members who employ over 2,300 staff in their Members' network in Australia and New Zealand. Laser Group continues to broaden its membership base as we are set to grow our contracting companies to over 500 members across Australasia.
We provide systems supportive of business planning & development."
---
Ending what has been a great year for Laser Plumbing & Electrical in Australia, is the announcement of the latest business to join the Group.
Category : Latest News AU
After a successful six-year partnership resulting in 51 podium finishes and the 2014 Porsche Carrera Cup Championship title, Steve Richards Motorsport and Laser Plumbing & Electrical have announced their continued partnership as Steve ends his stint in the Carrera Cup Australia to focus on growing its BMW GT program.
Category : Latest News AU
Laser Plumbing and Electrical have joined with the local community to raise much needed funded for the Goondiwindi Hospital.
Category : Latest News AU
---
LaserCon 2017 - Cairns
---
Laser in the Media
Steve Keil - Leadership with a Laser Focus
Steve Keil has a relaxed and yet strong leadership style and has a great skill in following a vision and what a big vision it is, as he leads the biggest franchise/group in his field in Australia and New Zealand - The Laser Plumbing and Electrical Group. Listen below for his interview with Glenn Azar.
---
Is race car sponsorship a smart marketing strategy?

Timbo Reid | Small Business, Big Marketing
Have you ever wondered what the ROI on sponsoring a race car is? What is the point was in having your logo on a race car that was belting down the race track at 200 km/hr. Is it really good brand awareness? Is it really worth the money? How much does it cost anyway?
---